Parking
There are several parking areas near the Garde Arts Center:
FREE street parking on State, Huntington, Meridian, and Union Streets (shaded in green).
FREE parking behind the Courthouse (Access via Cottage Street).
FREE parking in the Municipal Parking Lot (Eugene O'Neill Drive).
PAID parking at the Water Street Parking Garage and the Cornish Garage.
Directions
From the Norwich Area:
I-395 South to left Exit 5 at Montville Connector (signs for CT-32/New London). Continue straight onto CT-32. You will pass Connecticut College on the right and the Coast Guard Academy on the left. Take the downtown New London exit. At third light, turn right onto State Street. Continue straight. The Garde Arts Center is on the right.
From the Hartford Area:
RT. 2 South toward Norwich/New London. From RT. 2, take RT. 11 to end; go left onto RT. 82. At the first traffic light, take a right onto RT. 85. Take RT. 85 past Crystal Mall in Waterford. RT. 85 becomes Broad Street in New London. Take Broad Street to the end. Take a right on Huntington Street and then take an immediate left. The Garde Arts Center is on the left.
From Groton, Providence, & North:
I-95 South to the Gold Star Bridge at Groton/New London. Get in the right lane on the bridge. Follow right branch; split immediately over the bridge. Change to the left lane and follow left split to downtown New London. Pass under the pedestrian overpass. Go to second traffic light (State Street). Turn right. Go three blocks. The Garde Arts Center is on the right.
From New Haven & South:
I-95 North to Exit 83 (Downtown New London). The first traffic light is at end of the ramp. Go straight off the ramp onto Huntington Street. Take Huntington Street to fourth traffic light and make left onto State Street. The Garde Arts Center is on the left.
Don't Miss the Show by Waiting at the Bar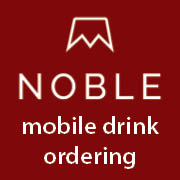 Contactless Ordering Payment with the Noble App
Enjoy Garde Arts Center refreshments with Noble, a free app that will allow you to pre-order and skip the lines at our concessions stands.  With Noble you order and pay for your concessions before picking them at a dedicated Noble Express location in our lobbies.
Say goodbye to long lines by following these simple steps
Download the Noble App…..or Purchase Online
Search "Noble Bar" in the App Store or Google Play Store or purchase from the Garde directly Here and place your order for pickup.
Order 
View the Garde Arts Center Concessions Menu and purchase your order. Be sure to allow notifications from Noble so we notify you when your refreshments are ready for pickup at the Noble Express bar.
Enjoy the Show
Holiday Inn New London
35 Governor Winthrop Blvd, New London, CT 06320, USA
(860) 443-7000
Clarion Inn
249 N Frontage Rd, New London, CT, USA
(860) 442-0631
Red Roof Inn
707 Colman St, New London, CT, USA
(860) 444-0001
SpringHill Suites Waterford
401 N Frontage Rd, Waterford, CT, USA
(860) 439-0151
Groton Inn & Suites
99 Gold Star Highway, Groton, CT, USA
(860) 445-9784
Mystic Marriott Hotel & Spa
625 N Rd, Groton, CT, USA
(860) 446-2600
Quality Inn Mystic
48 Whitehall Ave, Mystic, CT, USA
(860) 980-3257
Mystic River Hotel & Suites
9 Whitehall Ave, Mystic, CT, USA
(860) 980-3160
Days Inn & Suites
55 Whitehall Ave, Mystic, CT, USA
(860) 415-8155
Inn at Harbor Hill Marina
60 Grand St, Niantic, CT, USA
(860) 739-0331
Lodging in the New London Area