New York NY October 9, 2023: The 26th MANHATTAN SHORT Film Festival is delighted to announce this year's Gold, Silver and Bronze Medalists!
Congratulations to Phil Dunn (Stupid Boy), Steve Anthopuolis (Voice Activated) and Teemu Nikki (Tuulikki). The Gold Medal for Best Actor was awarded to Alek Mikic for his performance in Voice Activated. Best Screenplay winner is Petra Hood for her screenplay Courage.
The team at MANHATTAN SHORT would like to thank all the Filmmakers, all the wonderful venues involved and most importantly YOU the Public for taking these films and this event into your hearts.
---
On October 1, 2023, the Garde audience picked their favorite films and actors from the MANHATTAN SHORT Film Festival 2023. The results were added to votes from all over the world in a final tally. Here are our results:
The Garde's MANHATTAN SHORT audience Best Film votes: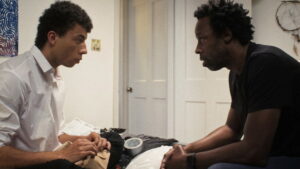 Sunless

(USA)

4
Voice Activated

(Australia)

96
Yellow

 (Afghanistan)

52
Tuulikki

 (Finland)

39
The Family Circus

 (USA)

75
Career Day

 (USA)

44
Snail

 (Iran)

14
The Record

 (Switzerland)

8
The Stupid Boy

 (UK)

114

Soleil De Nuit

 (Canada)

22
The Garde's MANHATTAN SHORT audience Best Actor votes:
Aleks Mikic, florist
(VOICE ACTIVATED)

261

Afsaneh Dehrouyeh, young woman
(YELLOW)
36
Saana Koivisto, young woman
(TUULIKKI)
32
Michael Ironside, cop
(THE FAMILY CIRCUS)
40
Paul Bartholomew, dad
(CAREER DAY)
49
Derek Elroy, dad
(THE STUPID BOY)
47
We look forward to seeing you all again next year!