Wed, May 15, 2024 | 7:30 pm
The real-time exuberance Tommy Emmanuel brings to every note of every song he plays is palpable and infectious. His fans are in love with his unbound talent as a guitarist of multitudes, his ability to play three parts at once, always with pure heart and real soul. He is a true virtuoso. But he seems as delighted always with the magic of the music as the audience, if not more, and his joy illuminates everything.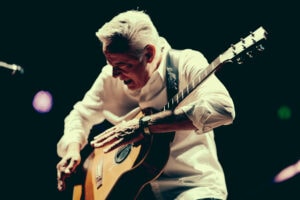 It's one thing to play these multi-dimensional arrangements flawlessly on an acoustic guitar. But to do it with that smile of the ages, that evidence of authentic, unbridled delight, is an irresistibly infectious invitation to feel his music as deeply as he does. "The joy, " he says, "is there always because I'm chasing it through music. Seeing the surprise in peoples' eyes is worth living and working for… I can't help but play to the people with all my heart, which is overflowing with joy of being in that moment that I've worked all my life for. And here it is!"
That authentic exuberance Tommy brings to every show and every record is especially powerful, given the profound deficit of real joy in so many lives. Tommy's happiness, like his music, is pure and expressed in real-time. Nothing is phony. It's a quality that does reach far beyond any one language, and it's instantly understood by all his fellow humans. It's the reason he smiles so much while playing, and why his audience does as well. As many have said, it's hard not to be happy at his shows. Because his joy, and the timeless river of inspiration, which is the source, is universally recognized. And it feels good.
Tommy was born in 1955 in Muswellbrook, New South Wales Australia, and started playing the guitar at age four. In his twenties, he was the most sought-after performer and session musician in Sydney. By age 30, he was burning on electric guitar with several rock bands in stadiums across Europe. He could have gone on to live the rock star life. Yet, he yearned for something purer and closer to his heart. Casting off the reliable rock band engine of monstrous sonics blasting, Tommy went acoustic.
The inspiration for Tommy's transformation was his hero, Chet Atkins, who represented the purity of one man, one guitar, and unlimited passionate for serving the song. Eventually Tommy met his hero and started a lifelong friendship which shaped Tommy's music forever. Chet welcomed Tommy into guitarist knighthood by bestowing upon him the coveted title of CGP (Certified Guitar Player), an honor awarded only to four other humans ever, and they recorded an album together, The Day Finger Pickers Took Over the World. Receiving the love and esteem of Chet lifted Tommy into a different realm. Because, as Chet recognized instantly and told the world, musicians like this don't come along that often; pay attention to this man. And people have paid attention from sold out shows all over the world to multiple Grammy nominations, ARIA Awards, IBMA Awards, and countless "Best Acoustic Guitarist" wins in numerous music magazine readers polls…. the world is taking notice.
Special Guest: Cris Jacobs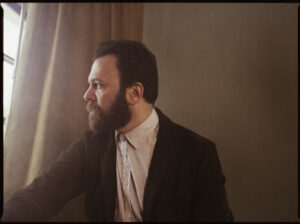 From Baltimore comes Cris Jacobs — an unexpectedly gritty soul-blues singer and guitarist with outlaw country ethos. Blending a variety of musical traditions, Jacobs creates a distinctive voice and sound of his own punctuated by emotive songwriting and explosive guitar playing. Equally at home playing heartfelt Americana ballads or funky blues rockers, Jacobs is known for his mesmerizing live shows, where his improvisational guitar playing, powerhouse band, and deep reservoir of songs make each night a unique experience.
Named one of Rolling Stone's "10 New Country Artists You Need to Know" in 2017, Jacobs has collaborated with the Grateful Dead's Phil Lesh and Dumpstaphunk's Ivan Neville, and earned opening slots on tours with Sturgill Simpson and Steve Winwood.
In his early days coming up in Baltimore, Jacobs spent 10 years as a member of eclectic rock band The Bridge before making his debut as bandleader and sole songwriter with 2012's Songs for Cats and Dogs, emerging with renewed focus and a refined sound.
With three solo albums to his name, a collaborative record with Ivan Neville aptly titled "Neville Jacobs", songwriting credits that include bluegrass artists Audie Blaylock and Frank Solivan, New Orleans funksters Dumpstaphunk, and gospel legends Blind Boys of Alabama, Jacobs continues to evolve and display his wide range of writing and performing prowess. "No matter the song", he says, "I just like to keep it soulful and let the music speak for itself".