Fri, Sept 29, 2023 | 8:00 pm
The Moth is true stories, told live and without notes.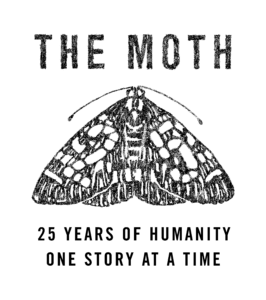 The Moth celebrates the ability of stories to honor both the diversity and commonality of human experience, and to satisfy a vital human need for connection. It seeks to present recognized storytellers among established and emerging writers, performers and artists and to encourage storytelling among communities whose stories often go unheard.
The Moth is a nonprofit organization that celebrates the commonality and diversity of human experience through the art and craft of true, personal storytelling.
Learn more about The Moth
The Moth's Impact
50,000+ stories told 6,000+ live events since 1997
15,000+ submissions to the pitchline
230 live and virtual storytelling shows in 2020
932 students who have told stories at High School SLAMs (to 10,000 of their peers)
6 continents where The Moth has held events
575+ stations that air The Moth Radio Hour
256 participants who have told stories through The Moth Community Program in 2019
100 million annual downloads of The Moth Podcast
25+ cities with monthly StorySLAMs and Mainstage Shows
644,000+ followers across The Moth social media profiles
4 stories told by Nobel Laureates
3 storytellers who have been in outer space
2 audience members who have fainted during stories about surgery
2 onstage marriage proposals (they both said yes)
When it comes to engaging and brilliant storytelling, The Moth never disappoints. Moth performances are the go-to for anyone who has ever wanted to hear the best of the art of storytelling.
Forbes
The most trusted name in storytelling
Time Out New York
Sponsors