Thu, Jun 15, 2023 | 7:00 pm
Ameen Mokdad's The Curve
From Iraq, a story of triumph
Performed by Ameen Mokdad,
with the New London Community Orchestra,
Cuatro Puntos Ensemble, and Ekklesia Contemporary Ballet
Iraqi composer and multi-instrumentalist Ameen Mokdad was trapped in hiding under the brutality of ISIS for two years in Mosul, Iraq. During that time he survived and told his story by writing an extraordinary repertoire of music…in secret.
Now, after a years-long visa battle, Ameen Mokdad joins the New London Community Orchestra, Cuatro Puntos Ensemble, and Ekklesia Contemporary Ballet to tell his story live and in person to American audiences for the first time.
Join us on June 15 for a powerful music-and-dance performance of Ameen Mokdad's The Curve, a collection of 19 original pieces composed during Mokdad's years in hiding from the Islamic State. The 19 songs form a soundscape that transverses a range of emotions: fear, defeat, hope, and rebirth.
The Curve has had live performances around the world since its creation and has enjoyed truly international status, with appearances in films, airtime on NPR, and streaming success that puts it in the top 7% of all albums on Spotify.
Featuring full orchestra and original ballet choreography by Ekklesia Contemporary Ballet artistic director Elisa Schroth, don't miss this exciting and groundbreaking cross-cultural collaboration—the grand finale of a ten-concert tour.
About Ameen Mokdad: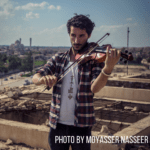 Ameen Mokdad was born in Baghdad, Iraq, in 1989. He graduated in 2013 from the University of Mosul Agriculture and Forestry College. He lived in the city of Mosul, in the north of Iraq, from 2003 until after the ISIS occupation. He started learning and making music in 2009. He has composed music for films and theater plays since 2014, has acted and directed experimental theater plays since 2017, and has worked as a music teacher and conductor since 2018. He founded the Light Orchestra in the city of Mosul in 2019.
About the New London Community Orchestra:

Founded in 2011 by local luthier Thomas Clark and founding conductor Joan Winters, the New London Community Orchestra is a nonprofit organization with a dual mission of offering a welcoming environment for community musicians of all levels to play and perform orchestral music and seeking to create the next generation of music lovers by providing music education for underserved students. The NLCO, currently under the music direction of Kevin Bishop, performs several free concerts for the New London community each year. In addition, the NLCO sponsors Music City Strings, a program of free violin, viola, and cello lessons offered to local students at the New London Public Library.
About Cuatro Puntos Ensemble: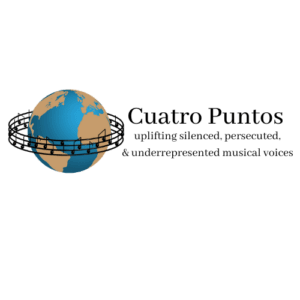 Cuatro Puntos ("four points" in Spanish) is a non-profit organization that activates music as a pragmatic and universally accessible stimulus for social change, cultural awareness, and empowerment of the underserved. Cuatro Puntos connects Connecticut residents with artists around the world by curating guest artists for in-person and virtual events, with an emphasis on artists who are cultural keepers of threatened art forms, or who are doing genuine work to serve others. Its roster of local, professional musicians, known as Cuatro Puntos Ensemble, collaborates with these local, national, and international guest artists to produce genre-defying and culturally significant concert programing and album recordings. Aiming for the highest in artistic excellence while working alongside socially significant artists such as the Afghanistan National Institute of Music and musician activist Ameen Mokdad (Mosul, Iraq), Cuatro Puntos Ensemble has been reviewed by Fanfare Magazine as having a "great depth of sound" and "virtuostic performance" and has performed extensively throughout the United States as well as in Bolivia, Brazil, England, Germany, the Netherlands, Turkey, and Afghanistan. To date they have produced six albums of varying genres and styles on major international record labels like Métier and Toccata Classics. They have been included on the soundtrack for films produced in England, Australia, and Afghanistan and have been guest lecturers at prestigious universities such as New England Conservatory (Boston), Columbia University (New York), Institute for Cultural Diplomacy (Germany), and Goldsmiths College (London).
About Ekklesia Contemporary Ballet:

Ekklesia Contemporary Ballet is a professional dance company based in Middletown, Connecticut, comprised of artist-theologians whose goal is to create spaces where art and faith can flourish. Ekklesia's diverse repertory utilizes a full spectrum of emotional and physical vocabulary while addressing issues such as poverty, inequality, and human suffering.
Sponsors