A Musical Performance of "Beautiful Trauma" 
by Frank Colmenares
In Open Therapy Session with Jewell Jones, LCSW
Group Therapy
Welcome to Group Therapy! In partnership with Ledge Light Health District & The Black Health Collective, Frank Colmenares will challenge the belief that emotions should be suppressed and hardships unaddressed, particularly among men and, more specifically, black men. Frank, true to form,  has turned to the arts to challenge the belief that one should not speak up and speak out. "Beautiful Trauma" is a six-song musical offering, produced by Frank, in which he vocalizes traumas throughout his life, and some that he has never felt comfortable acknowledging. The topics include dealing with the death of loved ones, witnessing domestic violence in as a child, the incarceration of relatives, dysfunction within family, partaking in a life of crime and so much more. In "Group Therapy" Frank performs his "Beautiful Trauma" album in full, accompanied by a live band, with each song followed by a live therapy session between Frank & clinician Jewell Jones.  They dive into the lyrics and emotions to unpack the trauma, in what will be Frank's first ever encounter with therapy. The event is designed to be  welcoming to all to watch and listen, and engage in the discussion.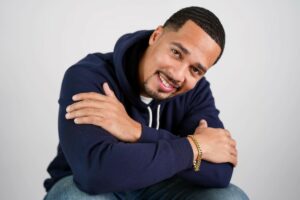 Frank Colmenares, born and raised in New London, CT is a lifelong music artist who has always found art as an outlet and solution. He was a  founding member of Writer's Block Ink & the New London Talent Show, which were created to provide at-risk youth positive platforms to express themselves and utilize their creative abilities.  His "Group Therapy" creation is geared towards the destigmatization of mental health illness and struggles and demonstrates how the arts have been Frank's primary tool in his mission to effect change in the world. Frank is a Forty Under Forty award recipient in the state of Connecticut and was awarded the Key to the City of New London for his dedication to community service and betterment of his community.  In his most recent addition to his catalog, Frank's "Beautiful Trauma" is a six-song music offering purposed to send the message that it is ok to speak up, speak out and even seek help.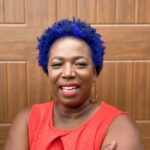 Jewell Jones is a brilliant black woman whose core values are love of self and others without condition, commitment to personal growth and development, and living integrally. A Licensed Clinical Social Worker, she is currently in her third career as a therapist at a local agency and in private practice in Waterford, CT.  Jewell served in the military for 13 years and in Banking and Finance for 22 years.  She has been married to Reg Jones for 27 years and together they have five children, two sons-in-love, and three grandchildren.
The Black Health Collective mission is to increase and promote opportunities for southeastern  CT's Black/African American community members to enjoy optimal health and well-being where they live, learn, work, play and/or pray. For information contact Blackhealth@healthysoutheasternct.org