Tue, Jun 13, 2023 | 7:30 pm
"More than anything, I wanted to make an album that was generous, that was useful," says Ben Folds. "I want you to finish this record with something you didn't have when you started."
Indeed, Folds' masterful new collection, What Matters Most, isn't so much a statement as it is an offering, an open hand reaching out to all those wounded and bewildered by a world that seems to make less and less sense every day. Recorded in East Nashville with co-producer Joe Pisapia, the album marks Folds' first new studio release in eight years, and it's a bold, timely, cinematic work, one that examines the tragic and the absurd in equal measure as it reckons with hope and despair, gratitude and loss, identity, and perspective. The songs are bittersweet here, but often laced with a quiet sense of longing and dread: a text message goes unanswered; an old classmate descends into the dark depths of internet conspiracies; a relationship unravels in the middle of a lake. And yet, taken as a whole, the result is an undeniably joyful record that refuses to succumb to the weight of the world around it, an ecstatic reminder of all the beauty and promise hiding in plain sight for anyone willing (and present enough) to recognize their moments as they arrive.
"There's a lifetime of craft and experience all focused into this one record," Folds reflects. "Sonically, lyrically, emotionally, I don't think it's an album I could have made at any other point in my career."
Born and raised in North Carolina, Folds first rose to fame in the mid-'90s with Ben Folds Five, whose acerbic, genre-bending take on piano pop helped define an entire era of alternative rock. After scoring multiple hit singles and a gold record with the band, Folds launched his solo career in 2001, releasing a series of similarly acclaimed albums that would firmly establish him as one of the most ambitious and versatile songwriters of his generation. In 2010, Folds teamed up with celebrated author Nick Hornby on a collaborative record titled Lonely Avenue; in 2014, he composed his first piano concerto; in 2015, he recorded an album with the classical ensemble yMusic; in 2017, he became the artistic advisor to the National Symphony Orchestra at the Kennedy Center, where he began curating a series of performances marrying contemporary artists with symphonic orchestration; in 2019, he released his New York Times best-selling memoir, A Dream About Lightning Bugs; and in 2021, he launched the Lightning Bugs podcast, an interview series on creativity and process with guests as diverse as Jon Batiste, Sara Bareilles, Bob Saget, and Rainn Wilson. Folds also revealed himself to be a prolific photographer with gallery shows in the US and Europe, appeared onscreen in films and television (most recently playing himself in three episodes of the hit Amazon Prime series The Wilds), composed music for a 25-minute stage adaptation of Mo Willem's Goldilocks and the Three Dinosaurs (which premiered at the Kennedy Center), and serves on the boards of the Arts Action Fund, the Nashville Symphony and Planet Word, a new immersive museum in Washington, DC, dedicated to celebrating the power of language.
"It can be difficult jumping back and forth from one discipline to another," says Folds, "but you learn so much from moving between worlds and collaborating with so many different kinds of artists. I performed some of the songs on this record with the National Symphony Orchestra before I finished recording them for the album, and that context gave me so much insight into how I wanted to handle them in the studio."
Working with friends Rob Moose, Ross Garren and Tall Heights, and with Dodie and Ruby Amanfu lending vocal harmonies, Folds tackled the recording process with an orchestrator's ear, carefully arranging each instrumental element in relief to his electrifying, insistent vocal melodies. Such detailed deliberation didn't supplant improvisation or spontaneity in the room, but rather it focused the music first and foremost on supporting the lyrics, which stand front and center even in the record's most sonically wild and unexpected moments.
"I come from the vinyl era, and this perhaps more than any record I've made is a true album," says Folds. "There's a very specific sequence and arc to each side, all building up to this almost surreal positive finale, and that structure was really important to me."
In the album's opening moments, "But Wait, There's More" comes off as a rather grimly sardonic tease. (We live in an age of overstimulation, overconsumption, and overwhelming self-absorption. Just how much more can we take?) But by the album's end, the line feels more like a mantra of hope and perseverance, a reminder that there's more to this life than meets the eye, more to celebrate, more to love, more to be grateful for. It's hard to imagine a more generous offering than that.
---
Tall Heights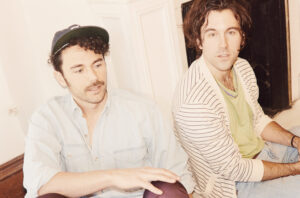 The third full-length from Tall Heights, Juniors emerged from a period of profound turmoil and revelation for the Massachusetts duo. In the span of five months, Paul Wright and Tim Harrington experienced a convergence of events. Compounded by a series of shake-ups in their professional life, that upheaval coincided with the start of the pandemic. Rather than succumbing to the tremendous pressure of that point in time, Tall Heights chose to confront the chaos by creating within it. The result: an album that precisely channels the pain, uncertainty, and unbridled joy of its inception.
As they set to work on Juniors, Harrington and Wright discovered an unexpected outcome of the loss that they'd endured: a shift in mindset that enabled them to embrace a boundless curiosity and exploratory spirit even more powerful than when they first formed Tall Heights (an endeavor that began when Harrington, on guitar, and Wright, on cello, used to busk on the streets of Boston back in the late 2000s). In a nod to the wide-eyed perspective that arose from the album's creation, the duo chose a title evocative of youthful wonder.
The follow-up to 2018's Pretty Colors For Your Actions, Juniors came to life at "The Tall House" — the Northeastern Massachusetts home where Wright and Harrington lived together for six years with their wives, pets, and Harrington's firstborn son, eventually moving out in August 2020. In a departure from the elaborate production process that yielded its predecessor, the two musicians wrote and recorded most of Juniors in isolation, holing up on the third floor of the household they liken to a joyfully anarchic artist commune. "It all happened in this tiny, hectic, beautiful space where our wives were also working from home, both pregnant, and there's a dog and a cat that hated each other, and then Tim's toddler who'd just started walking would come barging in and start dancing mid-take, joining in a song with us," Wright recalls.
In putting the finishing touches on Juniors, Tall Heights headed to Omaha and worked with producers Mike Mogis (Paul McCartney, Phoebe Bridgers, Bright Eyes) and Oliver Hill, who helped refine and enrich the backdrop of their emotionally raw songwriting.
Looking back on the tumultuous year that gave rise to their latest album, Harrington and Wright note that they've adopted the Juniors outlook as something of a spiritual ethos: a realization that every new endeavor — no matter how familiar — will undoubtedly present new challenges and extraordinary surprise, ultimately reminding them that they are still but juniors.  "This record gave us the chance to really understand what we have in each other as weird partners on the great journey of self-exploration," says Wright. "We know now that the Tall House can be a state of mind, not just a place of refuge. So while chaos continues, we're able to fully see the beauty that can come from it."