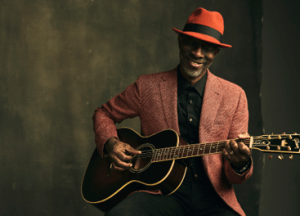 Keb' Mo's Jingle Bell Jamboree will feature the four-time Grammy-award winning contemporary Blues and Americana artist performing songs off of Moonlight, Mistletoe, And You (October 11).   Keb's first ever holiday album is being released this year along with his album Oklahoma (June 14) in celebration of the 25th Anniversary year performing under the moniker Keb' Mo'.  Keb's opener is the young R&B/Soul artist and star of America's Got Talent, Alicia Michilli.
Every pair of tickets for this show includes a digital download or CD copy of Keb' Mo's new album, Moonlight, Mistletoe, And You.  (You will receive an email with more details about this offer approximately 7 days after your purchase.)
---
Keb' Mo's Jingle Bell Jamboree
Meet & Greet Experience
Brought to you by CID Entertainment and Future Beat

Meet & Greet Experience Package includes:
One (1) Garde Circle premium reserved seat in the first five rows
Meet & greet / photo opportunity with Keb' Mo'
Q&A with Keb' Mo'
Christmas cookies and hot chocolate
One (1) Keb' Mo' Christmas ornament
Dedicated and early venue entry for merchandise shopping
Cost:  $158.50 (exclusive of ticketing fees)
Click here to download Meet and Greet flyer
---
About Keb' Mo'
Over the years, Keb' Mo' has cultivated a reputation as a modern master of American roots music through the understated excellence of his live and studio performances. From performing in front of President Barack Obama at the White House to the LA Forum with Garth Brooks, Keb' Mo' is keeping the Blues alive with the ability to demand the attention of broad audiences spanning the globe.  B.B. King, Buddy Guy, the Dixie Chicks, Joe Cocker, Robert Palmer and Tom Jones have all recorded his songs while his list of collaborators include Bonnie Raitt, Jackson Brown, Cassandra Wilson, Amy Grant, Solomon Burke, and many others.
Keb' Mo' has racked up four GRAMMY awards with the most recent being a 2017 GRAMMY for "Best Contemporary Blues Album," for TajMo, a collaborative effort with legendary bluesman Taj Mahal. He has also earned multiple Blues Music Awards for "Album of the Year," "Contemporary Blues Album of the Year" and "Contemporary Blues Male Artist of the Year."  His masterful guitar playing has inspired leading instrument makers Gibson Brands to issue the Keb' Mo' Signature Bluesmaster acoustic guitar and Martin Guitars to issue the HD-28KM Keb' Mo' Limited Edition Signature model.
The multi-talented artist has worked in TV and film as well, having written and performed the theme song for the smash sitcom, "Mike & Molly," and acting as the music composer for TV's "Memphis Beat." He also played Robert Johnson in the 1998 documentary "Can't You Hear The Wind Howl," while also appearing on "Touched By an Angel," and John Sayles' 2007 movie, "Honeydripper."
Philanthropy is high on the priority list for Keb' who has been involved with Playing For Change since its inception, a program created to inspire, connect and bring peace to the world through music. Additionally, Keb' is a celebrity mentor with the Kennedy Center's Turnaround Arts program, a highly successful program began under the guidance of Michelle Obama where artists work as mentors, working with teachers, students, parents and the community to help build a successful arts education program.
About Alicia Michilli
An R&B /Soul artist from Detroit, MI, Alicia Michilli is most widely recognized for being in the top ten on popular national television show, AMERICA'S GOT TALENT.  Fresh off the road opening for Grammy winning Taj Mahal and Keb Mo on their 2018 TajMo tour, this Nashville transplant has also opened for artists such as Andra Day and Nelly.
Alicia was raised on Detroit Motown sounds, the influences of which are undisguised in her music. A tiny thing, standing at only 5 feet tall, her astoundingly powerful vocals often come as a welcome and unexpected surprise to those hearing her for the first time. Her voice is often compared to Grace Potter, Aretha Franklin, Adele and Amy Winehouse. In her eight years in Nashville she has gained the attention and support of many fellow writers and performers, many of whom are featured on her brand new EP, "Letters From The Edge."  STREAM "LETTERS FROM THE EDGE"  www.aliciamichilli.com